Archive for the 'Gift Guides' Category
Every year I would go to a big box store and overpay for the kids Easter baskets. If you are wondering why I didn't just reuse the ones from the previous year, just start laughing now. The main reason is the kids would want to use them in their rooms for their "stuff". They weren't high quality so they always ended up broken. Let's just go with it's the kids' fault.
Once you get their baskets, you go overboard on filling it with things that they will be excited about for all of 5 minutes. Royal and Spencer were way more excited about colored pencils and chalk, years ago. Alex truly just loves everything so his baskets are super easy. Hunter and Royal, not so much anymore. Teenagers seem to get more expensive as they get older.
This year, get baskets that will last a very long time! When they have outgrown Easter, they have a fantastic bin they can use for whatever they want…. or you can steal it to organize your home. BONUS FOR MOM!
Right now you can get 2 amazing baskets for just $15 with every $35 spent. That's 2 for $15, not $15 each. Where can you get a gorgeous basket for $7.50? Need 2? Need 4? I got you!  read the rest of this entry »
The holidays will be here before we know it. Between figuring out what you want to buy for everyone and making out those Christmas cards, it can be a crazy time. So, whether you're looking for sweet gifts for your family or fun and festive holiday return address labels for all those Christmas cards, Mabel's Labels has you covered.
Holiday Return Address Labels: Make your holiday mail merrier with personalized return address labels! In new, festive, limited edition designs, you will get 100 labels for just $12.99.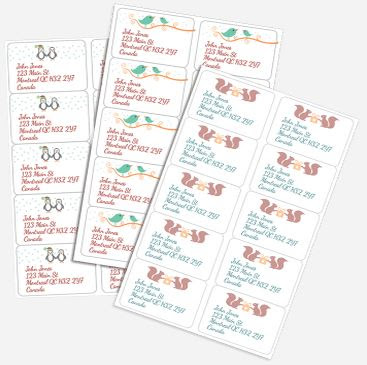 Stocking Stuffer Combo: Add a special touch to your gifts this year with personalized holiday name stickers and bag tags. These festive holiday designs are only available for a limited time and are great as stocking stuffers and party favors too!
Tis the season to be freezing, bur bur bur bur bur, bur bur bur bur. Yes, I am one of those people who yearns for the winter when it summer. However, once winter gets here, I wish it would warm up. I am good with 65 all year round. Why can't we have that?
Since gas and electric are so expensive, I am grateful for our fireplace. One of the hardest things to do, in our house, is get the heat from the fireplace down the hall to the bedrooms. Over the years, many different ideas have been tried. They did an okay job but never really warmed things up…. until now.
Now I am obligated to tell you that I received a Ozeri Ultra 42" wind fan and was asked to write a review about it. The opinions and stories are both mine and truthful. I do not believe in recommending a product to you that I think is worthless. If I think it is junk, I will contact the brand before hand or I won't even accept it at all. Now that I have that out-of-the-way, I can proceed.
I have owned many tower fans over the years. Most were pretty basic. They oscillated and had a speed setting. Yep, that was about it. For normal use, they were great but for my needs, they were not met. When I received the  Ozeri Ultra 42" wind fan, I figured it would be a good product but again, didn't feel it would meet my needs. read the rest of this entry »

I have always loved astronomy. Following start charts and searching out consilations proved to be a difficult task for me. While I can find the popular things, really trying to study it became too much of a headache. When our loved ones move on, we always look to the sky to speak to them. While I am not a religious person by any means, I do believe that we all go somewhere. My Dad left this world in 2008. It was a tremendous loss for us and a "win" for Cancer. He is officially a star. Interesting isn't it? Curious? I sure was.
The International Star Registry has introduced their New Photographic Sky Chart. Customers can add this to their star package when they name a star. Since 1979 International Star Registry has been naming stars for people all over the world. The star names and their coordinates are permanently recorded in the book, YOUR PLACE IN THE COSMOS, to be registered at the Copyright Office of the United States of America. To date, 9 volumes of this book have been published containing over 2 million star names. The Photographic Sky Chart is a collaborative effort between a team of German photographers and International Star Registry. The location of the named star is digitally indicated and circled. We are asking bloggers to enjoy and share the experience of naming a star and receiving this package. read the rest of this entry »