Archive for the 'For Her' Category
The holidays will be here before we know it. Between figuring out what you want to buy for everyone and making out those Christmas cards, it can be a crazy time. So, whether you're looking for sweet gifts for your family or fun and festive holiday return address labels for all those Christmas cards, Mabel's Labels has you covered.
Holiday Return Address Labels: Make your holiday mail merrier with personalized return address labels! In new, festive, limited edition designs, you will get 100 labels for just $12.99.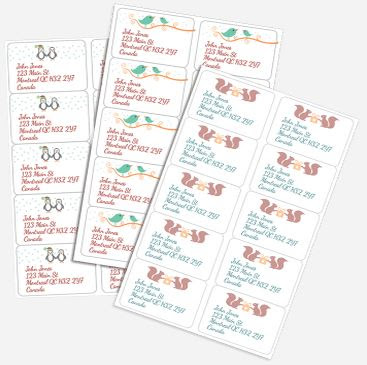 Stocking Stuffer Combo: Add a special touch to your gifts this year with personalized holiday name stickers and bag tags. These festive holiday designs are only available for a limited time and are great as stocking stuffers and party favors too!
Tis the season to be freezing, bur bur bur bur bur, bur bur bur bur. Yes, I am one of those people who yearns for the winter when it summer. However, once winter gets here, I wish it would warm up. I am good with 65 all year round. Why can't we have that?
Since gas and electric are so expensive, I am grateful for our fireplace. One of the hardest things to do, in our house, is get the heat from the fireplace down the hall to the bedrooms. Over the years, many different ideas have been tried. They did an okay job but never really warmed things up…. until now.
Now I am obligated to tell you that I received a Ozeri Ultra 42" wind fan and was asked to write a review about it. The opinions and stories are both mine and truthful. I do not believe in recommending a product to you that I think is worthless. If I think it is junk, I will contact the brand before hand or I won't even accept it at all. Now that I have that out-of-the-way, I can proceed.
I have owned many tower fans over the years. Most were pretty basic. They oscillated and had a speed setting. Yep, that was about it. For normal use, they were great but for my needs, they were not met. When I received the  Ozeri Ultra 42" wind fan, I figured it would be a good product but again, didn't feel it would meet my needs. read the rest of this entry »
Holiday shopping is almost always a headache. Every year I say that I am going to start early and every year, I don't. I think this is because the boys always change there mind about what they want. Last year, 3 days before christmas, Spencer decided he wanted something. While nodding at him, I am thinking to myself, "Really kid? I already bought it all, wrapped it all, and hid it all in places that I hope I can remember." One year I am just going to wrap some Duracell Batteries and throw them in a box. Here ya go kiddo! Merry Christmas!
My Mom is notorious for buying the toys that do not shut off. I think this is secretly payback for all of the times I misbehaved as a child. You know the toys I mean. The ones that start going off at 3 am because the dog bumped them. The ones that are loud enough to be used as a tornado siren to warm the villagers. These toys are why Mom's find a glass of wine at the end of the night. Disclosure: This is a sponsored post. Information ahs been provided by SheSpeaks and all stories and opinions are my own, as always.
How many times have you gone to a toy store, breathed a sign of relief when you finally got back in the car, only to co home and realize….. you forgot batteries. They can use the new toys without them right? It encourages the use of imagination. Right, that's it!… No?
While I want their toy batteries to last as brief as possible, I do look for the longest lasting batteries I can find for other things. After all, I don't like to get off my butt to change the channel on the TV. Do you? What do you mean that's why we had kids? I thought that was to see how long we can keep all of our hair. If you have forgotten your batteries, have no fear! You can hop on over to Walmart and pick up some Duracell batteries! Yes, I am trying to help you not leave your couch for any reason tonight. Always happy to help a fellow Mom out. read the rest of this entry »
After the birth of my youngest, Spencer, in 2007, I was unsure if I wanted more children. I was only 29 and I didn't want to close that window just yet. I opted for an IUD and was thrilled to find out that one of the POSSIBLE things that could happen was….. no more cycles! I was absolutely ecstatic to learn that I was one of the lucky ones. I did not have a cycle for almost 8 years. Can you even imagine how wonderful that is in your early late 20's, early 30's? There was a down fall to to having kids as well. Can you sneeze without peeing a little? Oh come on, we are all adults here right? We know it happens to so many women. I am not ashamed to admit this. It is one of my "battle wounds" for my wonderful children. Yes, it can be annoying at times but, I will gladly live with it to have them in my life. It is a small price to pay!
My IUD was only good for 7 years. At 36 years old, and my sons being 7 and 12, I accepted that I wasn't meant to have a little girl. All Mom's want a little girl but, I decided to close the bakery for good. There would be no more buns baking in this oven. So, I went in June and I had a tubal. The removal of the IUD, of course, would put me back in the cycle stage. This was not something I looked forward to. In August and September, no cycle! I thought that I was one of those extremely rare cases when it wouldn't come back. It turns out, October rolled around and I wasn't so lucky. read the rest of this entry »