Archive for the 'For the Children' Category
Every year I would go to a big box store and overpay for the kids Easter baskets. If you are wondering why I didn't just reuse the ones from the previous year, just start laughing now. The main reason is the kids would want to use them in their rooms for their "stuff". They weren't high quality so they always ended up broken. Let's just go with it's the kids' fault.
Once you get their baskets, you go overboard on filling it with things that they will be excited about for all of 5 minutes. Royal and Spencer were way more excited about colored pencils and chalk, years ago. Alex truly just loves everything so his baskets are super easy. Hunter and Royal, not so much anymore. Teenagers seem to get more expensive as they get older.
This year, get baskets that will last a very long time! When they have outgrown Easter, they have a fantastic bin they can use for whatever they want…. or you can steal it to organize your home. BONUS FOR MOM!
Right now you can get 2 amazing baskets for just $15 with every $35 spent. That's 2 for $15, not $15 each. Where can you get a gorgeous basket for $7.50? Need 2? Need 4? I got you!  read the rest of this entry »
The holidays will be here before we know it. Between figuring out what you want to buy for everyone and making out those Christmas cards, it can be a crazy time. So, whether you're looking for sweet gifts for your family or fun and festive holiday return address labels for all those Christmas cards, Mabel's Labels has you covered.
Holiday Return Address Labels: Make your holiday mail merrier with personalized return address labels! In new, festive, limited edition designs, you will get 100 labels for just $12.99.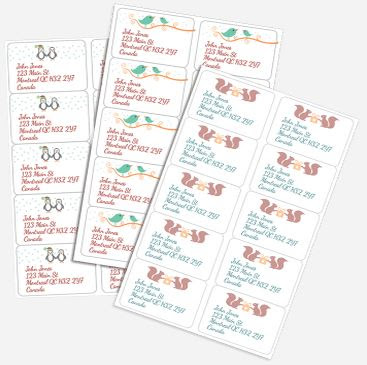 Stocking Stuffer Combo: Add a special touch to your gifts this year with personalized holiday name stickers and bag tags. These festive holiday designs are only available for a limited time and are great as stocking stuffers and party favors too!
Holiday shopping is almost always a headache. Every year I say that I am going to start early and every year, I don't. I think this is because the boys always change there mind about what they want. Last year, 3 days before christmas, Spencer decided he wanted something. While nodding at him, I am thinking to myself, "Really kid? I already bought it all, wrapped it all, and hid it all in places that I hope I can remember." One year I am just going to wrap some Duracell Batteries and throw them in a box. Here ya go kiddo! Merry Christmas!
My Mom is notorious for buying the toys that do not shut off. I think this is secretly payback for all of the times I misbehaved as a child. You know the toys I mean. The ones that start going off at 3 am because the dog bumped them. The ones that are loud enough to be used as a tornado siren to warm the villagers. These toys are why Mom's find a glass of wine at the end of the night. Disclosure: This is a sponsored post. Information ahs been provided by SheSpeaks and all stories and opinions are my own, as always.
How many times have you gone to a toy store, breathed a sign of relief when you finally got back in the car, only to co home and realize….. you forgot batteries. They can use the new toys without them right? It encourages the use of imagination. Right, that's it!… No?
While I want their toy batteries to last as brief as possible, I do look for the longest lasting batteries I can find for other things. After all, I don't like to get off my butt to change the channel on the TV. Do you? What do you mean that's why we had kids? I thought that was to see how long we can keep all of our hair. If you have forgotten your batteries, have no fear! You can hop on over to Walmart and pick up some Duracell batteries! Yes, I am trying to help you not leave your couch for any reason tonight. Always happy to help a fellow Mom out. read the rest of this entry »
Everything is Awesome! No really, it totally is! The kids were freaking when the trailer first came out for this movie. To be honest, I couldn't wait to see it too! If you haven't heard about The Lego Movie yet, seriously, what rock have you been living under?
The LEGO® Movie, the first-ever, full-length theatrical LEGO® adventure, original 3D computer animated story that follows Emmet, an ordinary, rules-following, perfectly average LEGO minifigure who is mistakenly identified as the most extraordinary person and the key to saving the world. He is drafted into a fellowship of strangers on an epic quest to stop an evil tyrant, a journey for which Emmet is hopelessly and hilariously under prepared.
Chris Pratt (Moneyball) stars as the voice of Emmet. Will Ferrell (The Campaign) stars as the voice of his primary adversary, President Business, an erudite, anal-retentive CEO who has a hard time balancing world domination with micro-managing his own life; while Liam Neeson (Taken) voices the president's powerful henchman, known as Bad Cop, who will stop at nothing to catch Emmet.
read the rest of this entry »