Archive for the 'Stocking Stuffers' Category
The holidays will be here before we know it. Between figuring out what you want to buy for everyone and making out those Christmas cards, it can be a crazy time. So, whether you're looking for sweet gifts for your family or fun and festive holiday return address labels for all those Christmas cards, Mabel's Labels has you covered.
Holiday Return Address Labels: Make your holiday mail merrier with personalized return address labels! In new, festive, limited edition designs, you will get 100 labels for just $12.99.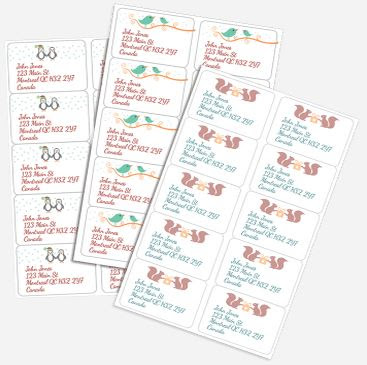 Stocking Stuffer Combo: Add a special touch to your gifts this year with personalized holiday name stickers and bag tags. These festive holiday designs are only available for a limited time and are great as stocking stuffers and party favors too!
Holiday shopping is almost always a headache. Every year I say that I am going to start early and every year, I don't. I think this is because the boys always change there mind about what they want. Last year, 3 days before christmas, Spencer decided he wanted something. While nodding at him, I am thinking to myself, "Really kid? I already bought it all, wrapped it all, and hid it all in places that I hope I can remember." One year I am just going to wrap some Duracell Batteries and throw them in a box. Here ya go kiddo! Merry Christmas!
My Mom is notorious for buying the toys that do not shut off. I think this is secretly payback for all of the times I misbehaved as a child. You know the toys I mean. The ones that start going off at 3 am because the dog bumped them. The ones that are loud enough to be used as a tornado siren to warm the villagers. These toys are why Mom's find a glass of wine at the end of the night. Disclosure: This is a sponsored post. Information ahs been provided by SheSpeaks and all stories and opinions are my own, as always.
How many times have you gone to a toy store, breathed a sign of relief when you finally got back in the car, only to co home and realize….. you forgot batteries. They can use the new toys without them right? It encourages the use of imagination. Right, that's it!… No?
While I want their toy batteries to last as brief as possible, I do look for the longest lasting batteries I can find for other things. After all, I don't like to get off my butt to change the channel on the TV. Do you? What do you mean that's why we had kids? I thought that was to see how long we can keep all of our hair. If you have forgotten your batteries, have no fear! You can hop on over to Walmart and pick up some Duracell batteries! Yes, I am trying to help you not leave your couch for any reason tonight. Always happy to help a fellow Mom out. read the rest of this entry »
Summer is gone and Fall is here! The chaos of back to school has slowed down and we are finally in a routine. It's already time to start thinking Christmas! If you are not thinking that YOU need a spa treatment, this is a great Christmas, Wedding, Birthday or even just because gift. What woman wouldn't want a little pampering? What is YOUR favorite spa treatment? Hop over, Signup for free and find a participating spa and wellness provider in your area for Spa Week (Oct 14-20)!
Nickelodeon released SpongeBob SquarePants: Season 6, Volume 1 on DVD December 8th.  The DVD includes a 2-Disc set that features 24 Spongy Stories from the sixth season, along with the exclusive SpongeBob history song, and more!
In our house, everyone is a fan of SpongeBob. I didn't know the show even existed until about 2004 but it first came to TV in May of 1999. My mom started buying the Season Sets for us years ago and i am happy to see the new one release! The only thing I really hate is that this is only half the season. Just another way to get us to spend more money
Here are the episodes that are included on this DVD. Great addition to the SpongeBob collection!
Disc One
1. House Fancy/Krabby Road
2. Penny Folish/Nautical Novice
3. Spongicus/Suction Cup Symphony
4. Not Normal/Gone
5. The Splinter/Slide Whistle Stooges
6. A Life in a Day/Sun Bleached
Disc Two
7. Giant Squidward/No Nose Knows
8. The Patty Caper/Plankton's Regular
9. Boating Buddies/The Krabby Kronicle
10. The Slumber Party/Grooming Gary
11. SpongeBob vs. The Big One (guest starring Johnny Depp as Jack Kahuna Laguna!)
12. Porous Pockets/Choir Boys
Special Features
– The SpongeBob History Song
– Ballons (bonus short)
– Juiceman (bonus short)
– The Outfit (bonus short)
– Traffic (bonus short)