The holidays will be here before we know it. Between figuring out what you want to buy for everyone and making out those Christmas cards, it can be a crazy time. So, whether you're looking for sweet gifts for your family or fun and festive holiday return address labels for all those Christmas cards, Mabel's Labels has you covered.
Holiday Return Address Labels: Make your holiday mail merrier with personalized return address labels! In new, festive, limited edition designs, you will get 100 labels for just $12.99.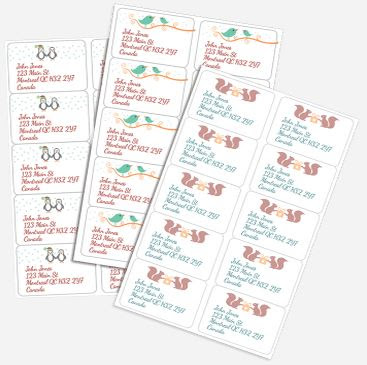 Stocking Stuffer Combo: Add a special touch to your gifts this year with personalized holiday name stickers and bag tags. These festive holiday designs are only available for a limited time and are great as stocking stuffers and party favors too!

I have always loved astronomy. Following start charts and searching out consilations proved to be a difficult task for me. While I can find the popular things, really trying to study it became too much of a headache. When our loved ones move on, we always look to the sky to speak to them. While I am not a religious person by any means, I do believe that we all go somewhere. My Dad left this world in 2008. It was a tremendous loss for us and a "win" for Cancer. He is officially a star. Interesting isn't it? Curious? I sure was.
The International Star Registry has introduced their New Photographic Sky Chart. Customers can add this to their star package when they name a star. Since 1979 International Star Registry has been naming stars for people all over the world. The star names and their coordinates are permanently recorded in the book, YOUR PLACE IN THE COSMOS, to be registered at the Copyright Office of the United States of America. To date, 9 volumes of this book have been published containing over 2 million star names. The Photographic Sky Chart is a collaborative effort between a team of German photographers and International Star Registry. The location of the named star is digitally indicated and circled. We are asking bloggers to enjoy and share the experience of naming a star and receiving this package. read the rest of this entry »
I absolutely love egg nog. I am happy that most of the people in my home don't so, I don't have to share! This is a very simple and delicious recipe. Happy Holidays!
Ingredients:
12 eggs
6 limes, zested
3 (12 fl oz) cans evaporated milk
6 (14 oz) cans sweetened condensed milk
1 tablespoon freshly grated nutmeg
1 (750 milliliter) bottle dark rum
Directions:
In a large bowl, beat the eggs and lime zest until light and fluffy using an electric mixer.
Mix in the evaporated milk and then the condensed milk.
Stir in the nutmeg, rum and bitters.
Refrigerate until serving.
That's it!
Disclosure: MAK Media, LLC wrote this post on no one and there was no compensation.  Any ideas and stories that may have been expressed are my own whether positive or negative. This post is not endorsed, sponsored or has any connection to Twitter, Facebook or any other Social Media network that may be mentioned. This post is the sole property of MAK Media, LLC.  Please read more on our Disclosure Policy.
Just in time for the holiday season, Sports Illustrated Kids is now offering a special subscription for Delightful Chaos readers!. Now, when you purchase an 
entire year of SI Kids in print and on tablet for $19.95, you can send a second gift of 12 issues (1 year) for only $5!
Here is the link to this exclusive deal! www.sikids.com/gift.
The magazine is jam-packed with action photos, easy-to-read stories, tips from the pros, hysterical comics, and engaging activities for boys and girls who love sports. SI Kids has won highest honors from the Association of Educational Publishers, as well as the Parents' Choice Award.
Here are more reasons to give the gift of Sports Illustrated Kids:
It is the perfect stocking stuffer
It promotes reading to children who are reluctant readers
Each issue is full of exciting stories, photos and games- the perfect distraction for holiday travel
It is delivered straight to your door
No gift wrapping required
It's the gift that keeps on giving the whole year through