Posts Tagged 'Mabels Labels'
Disclosure: This post contains affiliate links and I will be compensated if you make a purchase after clicking on my links
Marking this kids back to school items and sports equipment is very important. We have lost many baseball hats over the last 10 years. I am a HUGE fan of Mabel's Labels. We have a baseball glove that has gone through 3 boys and the original label is still on it! You have honestly never tried any labels like Mabel's Labels.
Celebrate National Dog Day with a sale on Personalized Name Stickers with the dog icon! Personalized Name Stickers for kids are a durable, waterproof way to identify lunch containers, bottles, toys, sports equipment and much more. Customize these labels with a choice of fun designs and make your belongings uniquely yours. The best way to keep track of your kids' easy-to-lose items!
The holidays will be here before we know it. Between figuring out what you want to buy for everyone and making out those Christmas cards, it can be a crazy time. So, whether you're looking for sweet gifts for your family or fun and festive holiday return address labels for all those Christmas cards, Mabel's Labels has you covered.
Holiday Return Address Labels: Make your holiday mail merrier with personalized return address labels! In new, festive, limited edition designs, you will get 100 labels for just $12.99.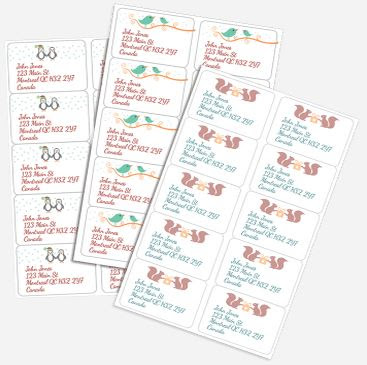 Stocking Stuffer Combo: Add a special touch to your gifts this year with personalized holiday name stickers and bag tags. These festive holiday designs are only available for a limited time and are great as stocking stuffers and party favors too!
If you follow my blog or follow me on Twitter than you already know that I am a
huge supporter
of
Mabel's Labels
! I follow these ladies on Twitter because not only is their product fantastic, but, they all are as well!
At this time they are only accepting applications from Western Canada and California.
Who are Mabel's Buzzmamas?
Buzzmamas are an exclusive group of friends who spread the word about Mabel's Labels.
What do Mabel's Buzzmamas do?
Buzzmamas act as Mabel's Labels ambassadors. As a Buzzmama you volunteer to represent their products and share stories about Mabel's Labels with friends, family, colleagues and other mamas you know. Simply provide feedback and share with them the conversations you have about Mabel's Labels to become eligible for FREE products. The more you talk and buzzback, the more FREE stuff you can earn. Plus you will receive a beautiful Welcome Kit full of Mabel's Labels goodies when you enter the program.
How do I apply to become a Mabel's Buzzmama?
Click here to apply.
Please note that at this time, they are only accepting applications from Western Canada and California.
You should receive this confirmation after you apply.
Thank you for taking the time to fill in our application. You will receive an email within the next 2-3 business days to confirm whether or not you are accepted into Mabel's Buzzmamas' program.
Follow the Mabel's Labels team on Twitter
@Mabelhood
@CaitM
@JulieCole
@Mumby
@3Ellis
@Samantha_ML
Since the day I received my first Mabel's Labels I was in love with them. Any product that can stay on through a season of 7 year old baseball sweat, gets my glowing recommendation! As usual, this is me rambling on because I am still learning this whole Vlogging thing! Thanks for watching and tolerating me while I tell you about this fantastic product.
Do you love Mabel's Labels too? Make sure you check out their Cyber Monday Deals!
30% off Holiday Gift Tags and Return Address Labels – Regular Price: $18.50, sale price $12.95
40% off Selected Write-On! Stationery, in choice of Bzzz or Cowpoke designs – Regular Price $34, sale price $20.40